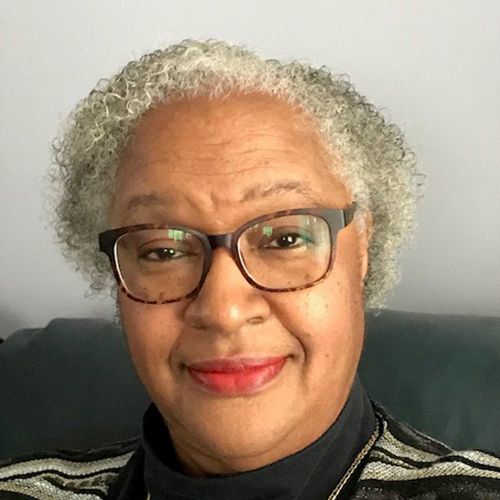 In this exclusive interview, Deborah Wilson Gadsden, Voce training specialist and author of A Changing Perspective on Child Welfare: From Teen Mom to Seasoned Professional, talks about the forces that propelled her to share her account of growing up and growing in the social work field with a national audience of social workers.  Deborah's writing captures her humility, insights, wisdom and grace spanning nearly five decades of service to the child welfare field.
Deborah's essay is one in a collection published by the Child Welfare League of America as Reflections on Child Welfare Areas of Practice, Issues, and Service Populations: Sociological Autobiographies -- Volume 1 (October 2020). Essays are available for purchase from the CWLA bookstore.
What compelled you to want to give voice to your personal and professional journey?
I have a lot of stories to tell! I've worked in the child welfare field for nearly 50 years, beginning as a receptionist at the age of 17 and eventually becoming a caseworker. Like the families with whom I've worked, my journey wasn't always smooth and there were many lessons learned along the way.
In my essay, I share my experiences working with three families involved with the system. I have a dozen more stories that I one day hope to share in a book about the connection between clients and caseworkers. It might seem surprising, but in this work, you get back as much as you give. It's so much more than a job if you give yourself to it.
Some of what I've experienced I want to share as a reminder to workers of the importance of the work they do. The child welfare system is arduous, for both the families served and the workers themselves. I believe you have to have a constitution in your being to do this work. You also need to strike a balance between giving enough of yourself to be authentic with your clients while reserving pieces of yourself that are just for you.
I also have to attribute my longevity in this field to the many people who mentored me and gave me opportunities to give a voice to my experiences. I still remember the very first baby I placed in foster care. He was nine months old and mom had been using drugs prior to and after having him. I could do the mechanical pieces of the placement, but when I got back to the office, I broke down. My supervisor, friend and mentor said to me, "tell me what you're feeling." She gave me permission to talk about the enormity of the decisions that we were making for children. I'll always be grateful for the close bonds forged with my fellow caseworkers. We took care of one another.
Did the process of putting your life experiences into words reveal anything new to you about yourself?
If anything, it revealed to me that I've had many life altering experiences. In my essay, there are three stories I talk about alongside my own story. Those stories in particular stood out in my mind because of lessons each of those situations taught me.
During the writing process, I also learned that I have a clinically oriented mind about child welfare, probably from having written so many case summaries and psychosocial documents. I had to adjust my writing style to bring these experiences to life. My son, who works in the film industry, was a big help to me.
At what point in your career did you begin to understand that this was your calling? Can you explain why the work chose you?
At one point, I began to realize that some of my cases were paralleling my real life. When I was interacting with my clients, I was able to be genuine because I could truly relate to their struggles. For instance, my caseload was filled with incorrigible adolescents right about the time my son was 16 and exhibiting similar behaviors. I didn't have all the answers, but I was willing to try the same things I was sharing with my families.
It was also around that time that I started to feel competent. I was an intake caseworker for about seven years, and I began to realize I had been blessed with a gift of engaging others. I felt as though I was setting families up for a good child welfare experience, one which would stay with them even through caseworker changes, which was always my goal.
What feedback have you gotten since the article was published?
All positive feedback!  Christine James Brown, CWLA's president and chief executive officer, knew how personal the essay was to me and she had asked me before it was published, "are you sure?" I was very sure. And since it was published, I've had several people approach me about the insights I shared and to offer their congratulations.
In your essay, you share that your client, Mrs. French, died before you could thank her for all that she helped you discover. If she were alive, what would you say to her today?
I think I maybe would ask her for some feedback. I would have liked to know if what I did for her helped her. I can remember when she was putting forth the foster mother who she wanted to care for her children. She asked me, "you think they'll go for that?"  Her concerned involvement and thoughtfulness made me want to fight for her, and fight I did.
If she had been able to stay in treatment longer and gain her sobriety, I think we would be friends. I liked her. She had a good personality and sense of humor. I could see myself in her, two women trying to raise our children and survive. I understood her survival, and I understood I could have been her if my road had taken a different turn.
In recounting your interactions with "Rachel," you acknowledge lessons of self-care, acceptance and the value of life. How have you cared for yourself during your 46-year career and what advice would you give to other professionals?
One lesson would be to know yourself, so you don't bring your issues into the work you're doing with families. As the child of an alcoholic father, if I had not worked through my resentment and patterns of co-dependency, I would have had much more difficulty dealing with addiction cases.
I would also suggest to workers to thicken their skin, but not so thick that you cut off your feelings and lose the ability to walk beside someone with empathy in their issues. I remember being involved in a case where a young girl was being sexually abused by her stepfather. I worked with the police while they were prosecuting him and during the police interview, he cried. It may seem strange to some, but I set aside my anger to ask him, "why are you crying?" When I worked with people who assaulted children, I had to treat them like a human being because as wrong as their actions were, they had pain and a story, too.
Last, recognize when your work is impacting your life and signaling you need a change. When my work in the sexual abuse unit made its way into my dreams, I knew I needed to do something different.
What contributions to the profession or the child welfare field are you most proud of?
Through teaching, I'm thankful for the opportunities to give back to new caseworkers and to young people who are considering coming into the field. When I think about where I am now and how far I've come since I was a 15-year-old mom, I know I beat the odds to get where I am. Society said I wouldn't finish my education, that I'd be a welfare mom, that my children would end up in prison. I can share my humble beginnings and show others that everyone has a calling and a purpose.
I'm also hopeful that my purpose includes writing a book to help other caseworkers, especially caseworkers of color. We have a lot of families who need us.
Deborah Wilson Gadsden is a training specialist with Voce, a role she has filled since 2008. Deb creates and delivers training content and instructs staff in the mechanics of training delivery. She also facilitates groups in the process of instructional design. Deb's expertise encompasses child abuse, permanency, racial equity and inclusion, and school and workplace bullying.