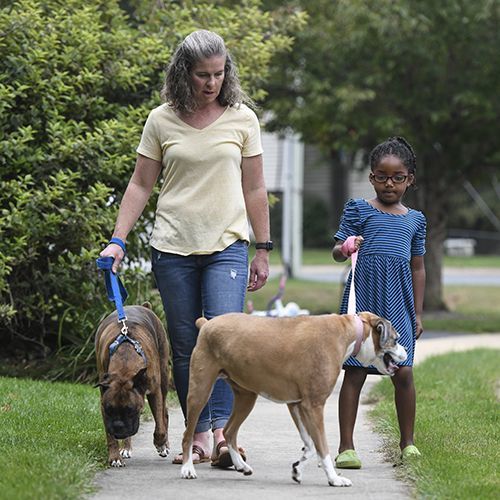 In 2012, we were a happy family of five. My husband, Joe, and I were the parents of three beautiful children, and we had decided our family was complete after the birth of our youngest daughter, Hannah. Everything was great as it was. Our kids were involved in sports and school and growing fast.
One Sunday while sitting in church, I felt a nudge to consider foster care. I can't really explain it—I couldn't even tell you what the message was that week—but the feeling in my heart was so strong it was as if God was sitting there telling me to start the discussions. Joe and I had several friends who were foster and adoptive parents, but Joe had always made it clear he wasn't interested in pursuing this path. Even though I believed the door to be closed, I mentioned my feelings to Joe. He thought I was crazy and, as I expected, the conversation went dormant.
Preparing our hearts, heads and home
A few months later, my friend came up to me and said, "Hey, Joe was talking to my husband about foster care. I didn't even know you guys were considering it." To my shock, Joe had been thinking about it and doing his own research. When we talked again, he shared that he wanted to consider it, but also really wanted to be prepared. Together, we began to gather information and continue to have big discussions. We talked with our friends who had traveled this path and they gave us REAL insights and answers. We even tried taking care of extra kids for people to see how we could handle it.
With our hearts, heads and our three children prepped, we decided to officially apply with our county agency with the mindset that we would walk through any doors that opened in the process. We hadn't planned on adopting; we simply wanted to be a safe place for children for however long they needed. By the end of 2012, we had completed training and our home study and were waiting to be "official."
Our first placement
The call came In January 2013. A young girl, who was already in foster care, needed to be moved. If she did well with our family, her brother would be placed with us as well. Kumilliana was four and Elijah was 15 months old. We said yes and launched into the hardest year of our lives.    
We quickly learned why the move had been needed, and thankfully, we had the amazing support of friends who had experienced very similar circumstances. One story I can share, because we joke about it now, is our new foster daughter lost her first tooth biting me during a rage. We learned a lot that year as parents and a family. We learned about mental health and caseworkers and biological parents. It was really crazy, but what we learned prepared us to continue moving forward into the most rewarding experiences.
Our first foster placement ebbed and flowed, as it does, with the ups and downs of emotions and attachment and detachment. It is heart wrenching. In 2015, Kumilliana and Elijah joined our family permanently through adoption.
More children, more lessons
After the adoption, we decided to stay open, but ONLY for children who needed a safe foster placement. We were called one month later for a three-year-old boy who was nonverbal and would do great in our larger family. Kinship was expected to come forward, so it would just be short-term. He very quickly became verbal and we all learned some new things about controlling anger and how to have calm conversations after a tantrum. Two years later, we adopted Michael.
Connecting with biological parents
During this time, we had decided to open up our relationship with Kumill and Eli's biological mom. Our relationships grew and changed, and we enjoyed seeing the kids be able to connect with their birth mother even after adoption. The strong connection we built with their birth mother led to us fostering another of her daughters, the biological half-sister to Kumil and Eli, when she was going through a difficult time. In the meantime, our youngest son, Michael's, mom had another baby and in 2020 we started fostering her.
Our biological parents' relationships have been amazing. We are now starting to get to know more family and connect with them to bring the kids the cultural influences they need to thrive. We have them over to our house or meet in the community or at their house. It has been life-giving and rewarding to see the kids grow in ways we never could have imagined. Because of these relationships, we have been able to keep lines of communication open and offer support which has been healing for everyone in the family.
Circles of support
Navigating the mental health system and finding good adoption and trauma-informed therapists has been so tricky. I've relied on my adoption/foster care circles of friends for advice on therapists, but all of the great ones have multi-year waiting lists. I am so excited for Voce and the plans they have in place to train therapists to better support foster and adoptive families (Training for Adoption Competency). Their hope to connect families with resources will be so helpful. Also, the ability to provide training to professionals and families is greatly needed. There is always something new to learn.
So, nine years since this story began, we are a happy family of TEN! We've doubled in size since 2012, and that is crazy to even write. We wouldn't change much, if anything, about this journey, especially the love and support we received along the way. It was an honor and privilege to help Voce with the launch of their new brand and video as a way of giving back. We know that Voce will empower many families as they begin and continue their permanency journeys also.