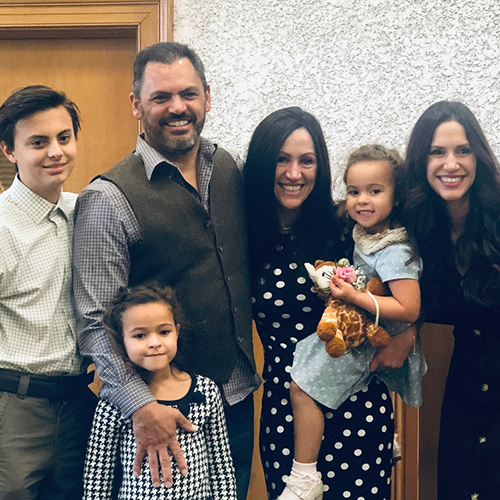 Jason Wolfe's mind is arguably wired for systems and technology. A serial entrepreneur and founder and CEO of Wolfe, LLC, Jason taught himself how to write computer code and rose to professional and financial success on the development and sale of one of his first technology products. His heart, however, is wired for children. Raised at the Milton Hershey School, a "social orphanage," and an adoptive parent himself, Jason knows the indelible need for family and belonging for every child.
"I have a heart for kids," he says simply when asked about his "why." Jason's heart, and his mind, are guiding Voce in developing a software solution to advance adoption and permanency practice. Jason recalled numerous complications, missteps, and bureaucracy that delayed the adoption of his two girls.  In true Jason fashion, he wanted to identify solutions and invest his time, expertise and financial resources to enable transformation in a human services system ripe for innovation.
Jason recognized Voce as a change agent and a pioneer of best practices in Adoption and Permanency.   As a Voce board member, he also witnessed the constraints and challenges involved with propelling the mission forward. Given his expertise and influence in the technology sector, Jason believed technology had the potential to advance the Voce mission and empower his voice to help create positive, lasting change. With Jason's expertise and relationships, and through a generous donation from the Wolfe Family Foundation, Voce is firmly committed to developing technological solutions for the human services field.
Voce's first technology product in development is focused on improving the efficiency and accuracy in family finding efforts. Our agency will offer a subscription-based software licensing and delivery model to child welfare agencies nationally. According to the most recent data, of the 400,000 children and youth in foster care in the U.S., 100,000 are waiting for adoptive families. Locating kin and other resources is critical to providing children with the stability, love and belonging of a forever family.
Jason's contribution to Voce exemplifies the power of partnerships resulting in the courage and commitment to tackle problems, the generation and implementation of new ideas, and long-term sustainable impact. His commitment is accompanied by a challenge to others. "There are thousands of children who need families. Do YOU want to help?" If your heart aligns with Jason's – and Voce's – you can find more information here about how to Give to and Connect with us.