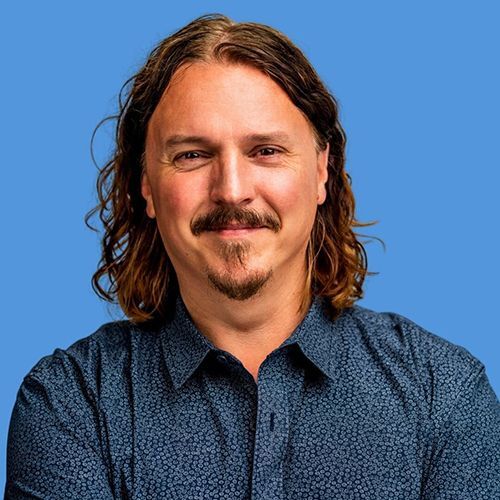 Voce Executive Director Rick Azzaro and musician/trainer Jim Donovan could be described as kindred spirits. When they first met a few years ago, they immediately connected around shared interests in music and healing from trauma. "The first time we met, we talked for three straight hours," Rick, who is a musician himself, shared. "What I see in Jim is a sincere desire to use what he knows to help people."
As a professional drummer and percussionist, recording artist and founding member of the band, Rusted Root, Jim Donovan, M.Ed. knows music. However, as an author, teacher and lecturer, his mission extends much further. Jim's knowledge and practice of sound healing was tested when he turned to its healing powers as he recuperated from an arduous medical event. Today, Jim is driven to share the healing power of music through education and performance. He specializes in placing music and wellness programs in organizations who focus on people with disabilities and people recovering from addiction.
Sound has an ancient kinship with meditation and healing. In fact, sound healing has ancient roots in cultures all over the world. Most people don't realize that they already have a "built-in" tool that can aid a body's ability to heal: the power of sound and vibration. Even though Jim had been studying and applying the therapeutic benefits of sound healing, he was surprised at just how fast these exercises personally helped him rebuild his own vitality and strength.
Having presented over 3,000+ music and wellness-based programs since 1999, Jim works internationally facilitating music and wellness events with a wide variety of populations. Despite his deep knowledge and experience, he is on a path of continuous learning. "Jim is humble and willing to connect with others to further his own understanding. He recognizes this is bigger than himself and is very serious about his craft," Rick explained. "The Forum on Pennsylvania's Children is geared around collective action, so it's a perfect fit for Jim's expertise and mission."
Jim will deliver an afternoon session called Healing With Sound at the second Forum on Pennsylvania's Children to be held Tuesday, November 14th at the Penn Stater Conference Center, State College. Registration for FPaC is open; the cost to attend this one-day is event is $185. For more information and the complete agenda, visit the Forum webpage. Don't miss this opportunity to learn from Jim Donovan about how music and rhythm can be leveraged to support healing from childhood trauma.
For more information about Jim and Jim Donovan Training Programs, visit his website or listen to Jim'sTEDx Talk titled How to Trick Your Brain Into Falling Asleep, which has amassed over 6 million views. Jim resides in Pennsylvania and is a faculty member at St. Francis University in Loretto.